---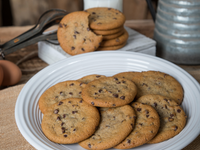 Item #: 201
A generous amount of chocolate chips makes for a truly delicious classic treat. 36 pre-portioned cookies ready to bake.
Note on Shipping:
This item is only available as Ship to Seller. The seller will receive this product at the fundraiser delivery and will be responsible to get it to you. You will need to include the Seller Name and Group when you check out. Check with the seller to see when the fundraiser delivery will be.
Here is a list of products that we can ship directly to you anywhere in the United States.